Check out this new interview of Sophia with Imagista: theimagista.com/sophia_lillis! Photography by Michael Williams.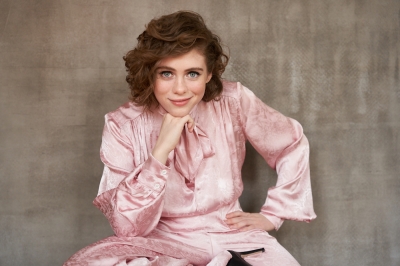 Sophia Lillis' newest project is the Alan Ball (Six Feet Under) film, Uncle Frank, in which she stars with Paul Bettany. This edgy film is set in the 1970s and was a big hit earlier this year at Sundance. It will be released on Nov. 25th via Amazon Studios.
Imagista: The film, haunting as it is, documents an America divided by homophobic proclivities. What was it that drew you to the project?
Sophia Lillis: Well, originally, I loved Alan Ball's work. It was a really good script, and amazing writing. It was a really personal story, so I wanted to play my part in bringing it to life. You don't often see a script with a happy ending-strange thing to say- but you don't. It's a story about homophobia, but with a really happy ending, and that's really rare to see. I wanted to help the story get told.
Imagista: How did your character differ from the personas you've inhabited in the past?
Sophia Lillis: For one, I had to play people of different ages. My character varies in age from fifteen to eighteen, which doesn't sound like a lot, but kids act differently at fifteen to eighteen. And I had to pick up a Southern accent, which was a little different for me.
Imagista: Paul Bettany, British stalwart and heart-throb, co-stars: what was he like?
Sophia Lillis: Paul's great. This was my opportunity to learn with adult actors-normally, I work with kids my age. I was very nervous at the beginning, because he was very prepared: he had his notes, he had his binders. I thought, 'I'm going to have to up my game', so the next day I bring my binder and notebook (begins laughing). Paul's very tall, and I'm very short… Whenever I work with people, they're always taller than me, but he's very, very tall, so I had to learn to stand on crates in scenes.


Imagista: Alan Ball is renowned for showing the mistrusted psyche of the common person. How collaborative was Ball to work with?
Sophia Lillis: He's very collaborative and works well with actors. Firstly, I loved Alan's work on TV, so he's used to getting things done quickly, and getting on with things. I'm such a perfectionist, so I like to work towards being perfect. I had to trust Alan whenever he said he was moving on, that he had what he needed from the scene. I was nervous about not doing well, so I had to trust that we gave him everything he wanted, that he had enough footage from the scene to move on to whatever was happening next, and that I had given a good performance for the scene. I guess it was mutual trust (chuckles).
Imagista: Do you think the film represents the America that we know and work in?
Sophia Lillis: The story is set in the early seventies: South Carolina in the seventies. America is a lot different now. Homophobia still exists, but I think things have changed. People are much more accepting. Watching it, I'm happy to see things have changed since the seventies.
Imagista: Although the film is primarily about men, it is the women who anchor and guide the film. Was that something that drew you to the project?
Sophia Lillis: There's a lot of brilliant women, a lot of brilliant actresses, who worked on this film. I mean, if you look at the actresses, there's Margo Martindale; there's Judy Greer; Lois Smith. I felt my own character worked towards becoming a very strong woman in her own way, over the course of the story, so I would say that was something I liked about the script.
Imagista: Covid has changed the cinematic landscape. How do you think the pandemic will influence future releases?
Sophia Lillis: That's the thing: I don't think people are going to see this in the movie theater. And that's what I miss most, is going to see movies in the movie theater. Everything being developed is being developed online, so I think it's places like Netflix, like Hulu – places like Amazon. [The film will be out on 11/25 via Amazon Studios]



Imagista: What other projects are you working on?
Sophia Lillis: Things are just starting up again. My TV series I Am Not Okay With This was canceled because of the pandemic. That's OK, it's not like we can blame it on someone (chuckling), it's a worldwide virus. This film definitely needs to be seen during this time. There were amazing people working on it, it's got a good story, and there's a happy ending to it. Very heart-warming. It's a really lovely movie, and I'm not just saying that because I was involved with it!
Imagista: Talk to us about Sundance
Sophia Lillis: Sundance was a lot. It was a lot of fun, and I'd heard people saying it was a lot, but I didn't realize how fast-moving it was. It reminded me of New York, and I guess it's like Times Square. That's the best way of describing it: you can't stop moving. I wish I could have gone to more of the festival. I heard people saying they'd seen 'this movie', and 'this thing', and I was like…So jealous.
Posted by Veronique on November 23rd, 2020
Articles & Interviews - Gallery - Photoshoots - Uncle Frank